Office Hours
This location is managed remote from our Coon Rapids Storage location.
Monday- Friday: 9:00am-6:00pm
Access Hours
6:00am-9:00pm 7 days a week
10x20's 1st Months Rent FREE! ACT FAST
Storage Units in Shafer, MN
If you're looking for storage in Shafer, MN, we have what you need. Highway 8 Self Storage will provide you with an outstanding experience, along with a variety of amenities that will make you glad you decided to store with us.
Highway 8 Self Storage, conveniently located at 17086 Lake Blvd., in Shafer, MN, works hard to set themselves apart from other area properties by providing you with dependable, affordable, and secure self-storage.
If you need interior storage units in Shafer, MN, we have them. We not only offer a variety of types and sizes of units for your business and personal items, but we have uncovered, open and enclosed parking for your boats, RVs and other vehicles. Our units are impeccably clean, and we have wide aisles to make it easy to maneuver large trucks. To make your move easier, we have rental trucks available and moving carts and dollies for your convenience.
Your peace of mind is important to us. Our storage facility in Shafer, MN is well-lit and you can access your unit 365 days a year. We provide digital video monitoring, electronic gates, and keypad access. To make your life a little less complicated, we offer you the flexibility of month-to-month leasing as well as online payment options. Don't forget to ask about our regular specials.
For more information, give us a call at any time. Our friendly, professional staff will be happy to answer your questions and give you a tour of our facility.
Check Out What Our Customers Are Saying
"
"
Laurie Blank
on 03/06/2020
Customer service was great. Facility was clean and in good shape.
"
"
Staff is friendly and helpful. Getting through the security gate was a breeze and had no issues at all. However, when we arrived at the unit, we discovered that there was a large amount of snow and ice in front of the unit and that made access difficult. I had to spend about an hour and a half busting ice in front of the door due to it being frozen shut to the ground. After gaining entrance, we discovered that the unit floor was completely covered in about an 1 1/2" of solid ice. Great space though and the ice will melt and the water will dry up. We'll just have to keep the area in front of the unit shoveled next winter to prevent this from happening again!
"
"
Sondra Kaye
on 07/15/2018
I highly recommend Highway 8 Self Storage. My husband and I have had no problems whatsoever with anything. We live out of town and haven't been able to get things moved as we had hoped so there have been extended periods of time that our belongings have gone unchecked but also undisturbed. It has been an enormous relief to know that our property is safe and secure while we're away.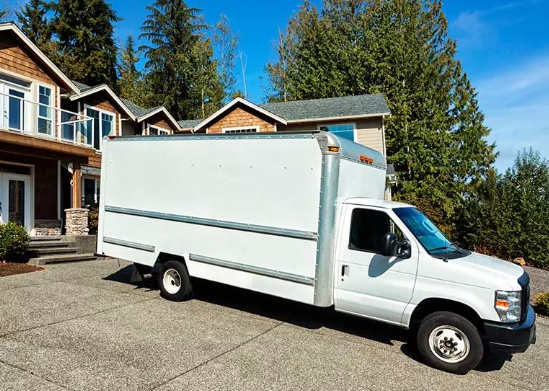 Truck Rentals in Shafer, MN
Our storage facility in Shafer, MN, offers convenient, affordable U-Haul truck rentals. Our trucks are well-maintained and specifically designed for household or business moving. These trucks are not only easy to load, comfortable to drive, and fuel efficient but feature gentle ride suspension and high visibility mirrors. If you're looking for boxes, tape, or bubble wrap, stop by and see our full inventory of high-quality, affordable moving supplies.
Whether you're storing your treasured belongings or moving to a new home, we can assist you in renting a truck at our storage in Shafer, MN storage facility. Call one of our friendly, professional staff at 651-447-6747 to check rates and availability
Highway 8 Self Storage is a quality storage solution located in Shafer, MN. We're located off of Highway 8, near Marathon Gas Station. Residents and businesses throughout Lindstrom, Forest Lake, North Branch, Hugo, and several other surrounding areas can depend on us to provide great service and affordable prices.
Head west on 303rd St toward Redwing Ave

Turn left onto Redwing Ave

Turn right onto US-8 W/Lake Blvd

Highway 8 Self Storage will be on the right
Head north on Park St toward Lake Blvd

Turn right at the 1st cross street onto US-8 E/Lake Blvd

Highway 8 Self Storage will be on the left
Head west toward Bench St

Turn left at the 1st cross street onto Bench St

Turn right at the 1st cross street onto US-8 W/St Croix Trail

At the traffic circle, take the 2nd exit onto US-8 W/Lake Blvd

Highway 8 Self Storage will be on the right
Head west on 350th St

Turn left onto Redwing Ave

Turn right onto Furuby Rd

Turn left onto Redwing Ave

Turn right onto US-8 W/Lake Blvd